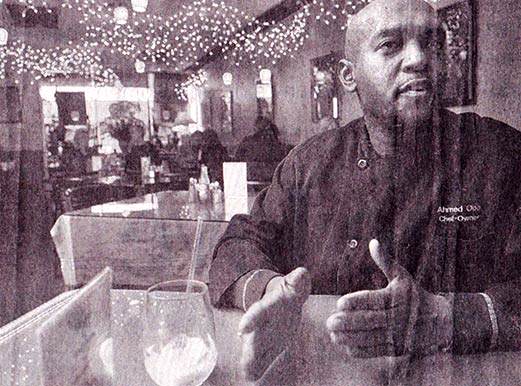 Published April 4, 2014.

If you haven't eaten at Jambo, you should.
by Anne Hillerman, For the Journal
With an African music group on tap at the Lensic Theater later that night, dinner at Jambo seemed an ideal way to start the evening. I didn't expect the restaurant to be crowded at 5:30 p.m., but I guess Jambo is always busy. Food this good is hard to resist.
If you haven't eaten here yet, you ought to. To my way of thinking, this cozy, locally-owned community-focused café offers much of what people look for in those restaurants that last: good food, reasonable prices, a menu that is focused, varied and not overwhelming and, perhaps more importantly consistent attention to both meal quality and service. Jambo doesn't try to be everything to everybody and, as a result, does African and Caribbean cuisine with excellence.
Owner-chef Ahmed Obo's recipes reflect his roots in Lamu, an island off the coast of Kenya. His homeland, he says, is rich with a unique fusion of European, Arabic and Indian influences. He opened Jambo Café in August 2009 and the place has thrived. Few would have expected a restaurant with an exotic (for New Mexico) cuisine in an offbeat location to do so well. But Santa Fe locals love Jambo's combination of the unusual and the exotic. And we like the prices, too.
Located in an unassuming storefront in the College Plaza shopping center, Jambo's serves lunch and dinner in two modest-sized dining rooms. Customers are presented menus and encouraged to consider the day's specials. In our case, they were mahi mahi and black bean guava soup. For those who want to know before you go, the restaurant lists each day's specials on its Facebook page. As we pondered our options, delicious aromas wafting out from the kitchen stimulated our appetites.
Our party of three started with a pair of appetizers we figured would be easy to share. The coconut shrimp ($7.95) arrived flattened and golden fried with a lovely coconut crunch and, to my delight just a touch of sweetness. The five shrimp make a nice introduction to a new cuisine for children of timid eaters. The peanut dipping sauce added interesting complexity.
We also shared the plantains ($4.95), pieces of fried banana-like fruit coated in cinnamon and served with a bowl of curry dipping sauce that gave the dish a combination of sweet and savory flavors. Like the shrimp, this is a friendly dish for the unadventurous. Other appetizer choices are hummus with veggies and pita and something I'm eager to try on my next visit: phyllo pastries stuffed with olives, feta, spinach, roasted red peppers and chickpeas, finished with a drizzle of pomegranate sauce.
As a main course at lunch or dinner, I love the goat stew ($12.95), a dish I have yet to discover on any other menu. The mild, tender, slow-cooked meat came with plenty of mild curry-flavored gravy. Potatoes and carrots in the broth added to the meal. You can order this basmati rice or roti, African flatbread. I had the bread, which reminded me very much of Indian naan. Delicious!
We sampled another meal in a bowl, the Moroccan lamb stew ($12.95). Unlike the goat dish, this stew featured a highly complex sauce with hints of nutmeg. Studded with chickpeas and sweet potatoes among the meat, this dish is a celebration of textures and colors. Jambo serves the stew atop couscous and adds a serving of sweet and spicy chutney.
My friend's grilled tilapia ($11.95) passed the crucial "don't-overcook-me" test. The mild fresh fish was complimented with red-chile rice and a lovely side of sauteéd spinach. Excellent.
Jambo's menu also includes peanut chicken stew, lamb burgers, salads, kabobs and sandwiches. I especially love the curried chicken salad wrap ($9.95) with its tender chicken, lovely pineapple, peanuts and raisins.
Dessert anyone? We bypassed the flourless chocolate cake, baklava and even the luscious-looking banana-coconut cream pie our neighboring table ordered to celebrate a birthday. Instead, we asked for three forks and the mango cobbler and Jamaican rum pecan pie (each $4.95.) The cobbler was overly sweet and the topping gummy. It was the only thing I've eaten here I wouldn't recommend. The pie was by far the better of the two with a bright rum overlay that worked well to counterbalance the rich pecans and the sweet base. The pie crust tasted homemade.
Jambo is one of more than two dozen restaurants joining Santa Fe's popular fundraiser Angel's Night Out on April 18. All participating restaurants agree to donate 25 percent of the evening's proceeds to support the good work of Santa Fe's Kitchen Angels in feeding homebound clients. You'll find the list of participating restaurants and their numbers for your reservations at http://www.kitchenangels.org/events.html