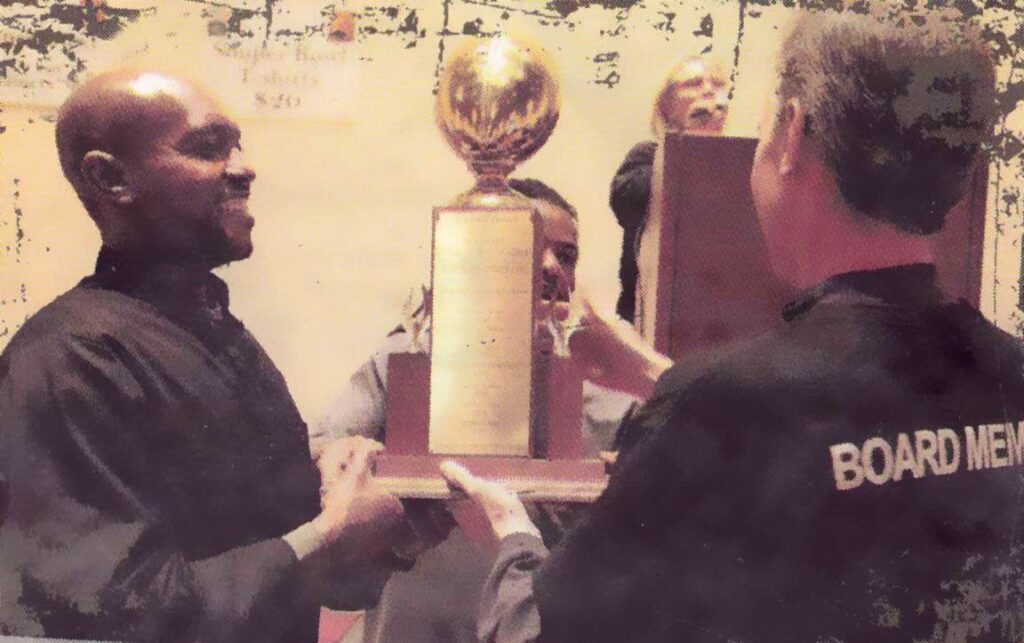 Published March, 2013.

The City Generously Different
story by Chef Johnny Vee
photos compliments of the Food Depot
Santa Fe's restaurateurs are known for their generosity, and out local calendar is packed with charitable benefits—from The Souper Bowl in January to ArtFeast and the Cancer Foundation's Sweetheart Auction in February to Wine & Chile in September and Aid & Comfort in November and so much more. There's a lot of contributing going on!
Anyone who owns a business in Santa Fe (or any other city for that matter) can expect to field calls every day asking for donations, donations, donations. Restaurants, it seems, are at the top of the list for the coordinators of charitable events. There are a myriad of balls, galas, parties, fundraisers, appeals, sponsorships and celebrations seeking support. Perhaps there is somrthing especially appealing about bidding on a meal at a live or silent auction, and clearly, there is a bonus that the involvement of a local chef gives the occasion: the added glamor. Chefs, like celebrities, sell tickets.
Charitable donations have been falling as the economy has slowed (one report suggested that donations dropped by 20 percent in 2012), and competition is stiff for benevolent funds and for the donation of star-power from our already overworked culinarians. For many charity events, the chef not only has to supply face-time but also ingredients and staffing to boot. Often gift certificates and donated dinners are requested in addition to the chef's direct involvement in the event. I was curious to discover just exactly how enthusiastic our local restaurateurs are about the countless number of times a year they are hit up for donations. I can happily report that not one of the dozen or so chefs I spoke to were anything other than delighted to give back to the community in this way. Not even when I promised that their comments could be anonymous and off-the-record did one of them offer a disparaging word (apart from a from a few bruised egos from lost competitions). The milk of human kindness runs deep in the hospitality profession. So what goes in to all this philanthropy?
One of the most successful and well patronized events is the annual Souper Bowl, which benefits the Santa Fe Food Depot. Now in its 19th year, this benefit—which took place January 24 of this year—is the biggest fundraiser for the non-profit organization that puts a lot of food on the tables of New Mexicans in need.
The Food Depot's director, Sherry Hooper, met with me at the wonderful Jambo Café, home to the winning soup four years running. "The income from this year's Souper Bowl grossed $85,000 with a net of $60,000," she proudly announced. "We sold over 1300 tickets. The wonderful thing was being allowed to use the convention center without a fee, due to the fact that Santa Fe City Council voted in a ruling in 2012 giving each council member the use of the center for free once a year. Counselor Chris Calvert was kind enough to give us his day. It saves us so much money."
Sherry reported that it takes more than 100 volunteers, plus her staff of 12, to coordinate the tasty shindig. The planning starts in July. This year, almost 30 restaurants offered soup samples to the hungry throngs. "We've come a long way since we started with five restaurants in the parking lot of Wild Oats," Hooper said.
Dashing chef Ahmed Obo joined us and chimed in his enthusiasm for the event. "I had won the event twice while working at the Zia Diner. When I won the year I opened Jambo (with a spiced coconut peanut chicken soup that folks still talk about), it was a great promotion to introduce folks to my restaurant. We could barely keep the winning soup in stock. Now that I have won in virtually every category, I may have to step back next year and let somebody else win," he said with a chuckle, adding that "the Souper Bowl is one of the easiest [benefits], because it is so well organized."
Obo brought us piping hot bowls of this year's winner in both the Best Soup and Best Cream Soup categories: a luscious spiced coconut cream guava-lime soup—definitely a winner! "Because we have won before, there is always a huge line at our booth," he said. "People are very curious to see what soup we brought this year. It challenges me to create the recipe. I make over 20 gallons of soup and bring six staff with me. They all volunteer their time, which I appreciate."
After each Souper Bowl, leftover soup is packaged up and put on sale for the revelers to take home. Not a drop is wasted. "Sometimes I don't even get to sample the winning soups," Hooper admitted.
There is another side to special events as well. Last year, as I accompanied one of Santa Fe's top chefs home from a fund-raising event that he had participated in, I got a unique perspective of the other side of the charitable coin. The event had been designed as a competition, and said chef had not won. The proceedings made for a very stressful and long afternoon, and when it was over, although all participants were thanked, only the winner was cheered. The deflated chef was heading back to his restaurant to cook on a very busy night in a darkened mood. As he expressed his frustration about the loss, it was clear: his ego was bruised, and he felt as though it might reflect unfavorably on his considerable talents. I argued that it was all good fun and for a great cause but it did give me pause to reflect. A lot of time and effort and heart goes into the multitude of events in which our hospitality community is asked to participate. And I wonder if it was fully appreciated.
Charles Dale, fresh from opening his new restaurant, Bouche, said he sympathized with the chef who felt deflated from losing the competition. "I deliberately avoid the competition events," he said. "My take on it is that these events should focus on cooperation rather than rivalry. I really enjoy the camaraderie of working with the other chefs on fundraisers. Ever since I have owned my own restaurants, going back 20 years, I have felt that it's important to donate time and resources for worthy causes. It's a wonderful opportunity for your business to play an influential role in the community." I kidded Charles that his quote will bring many a request for donations.
Another chef who benefited from participating in this year's Souper Bowl is Andrew Cooper from the recently revamped Rancho Encantado, now a Four Seasons property. It put him on the culinary map. "The Four Seasons is a firm believer in supporting community events and, of course, covered all the expenses. All of the events we have participated in have been great fun. I love meeting the other chefs and the folks who attend. The night after the Souper Bowl in the after, our restaurant, Terra was fully booked. We had a private party in banquets, and I had a Chef's Table where guests dine right in the kitchen. It was pretty wild!"
Cooper is also involved with Cooking with Kids, the Santa Fe Farmers' Market, Kitchen Angels, Homegrown, and…the list keeps growing. "The next event I'll do is with La Posada's Carmen Rodriguez for Gerard's House, called the Comfort Food Classic. This year it's a Mac & Cheese cook-off."
The mac and cheese cook-off is scheduled for Sunday, April 28, from 1 p.m. to 3 p.m., and Obo will be competing again, along with Rocky Durham from the Santa Fe Culinary Academy and Jean-Luc Salles from Le Pod food outlet. It will be fun to see of Obo's pasta skills match those of his soups.
Rodriguez, himself a winner of the Restaurant Association's New Mexico Chef of the Year 2012, is truly passionate about giving back. "All of the charitable groups I work with have something to do with kids. I have coordinated the Big Brothers Big Sisters gala for the past three years."
Rodriguez' personal mantra seems to sump up this story. "When my daughter got sick while we were traveling in India, a kind doctor who took care of her said to me when I thanked him, 'Our duty in life is to take care of one another.'"
Charles Dickens said that charity begins at home, and in the City Generously Different, it continues in the hearts of our restaurant community.