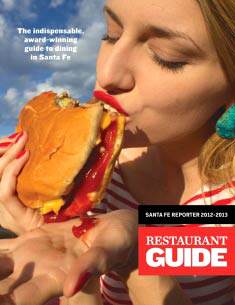 Published November, 2012.
20 Faves—Jambo Café
If you happen to find Jambo Café, located inconspicuously in the retail center off St. Michael's Drive and Cerrillos Road, and during the course of the meal a server with a big grin asks how you're doing, don't take it as a platitude. He wants to know how you are doing, and once that's established, he will return to inform you the chewy goat you've been picking out of the goat stew likely spent its formative years on a farm in Taos, and that Jambo buys local whenever possible—even though the restaurant pitches its menu as anything but local.
Aside from the goat stew, though, American palates won't be too surprised by the African homestyle cuisine—much of which is accompanied with rice and lentils—but for the tasty spices and seasoning. The crispy plantains are dusted with cinnamon, for instance, while the marinade sets the jerk chicken sandwich, served on pita bread, apart. You'll really be able to tell the server you're doing well if you get the Moroccan Lamb Stew, served with chickpeas, raisins and curried couscous topped with chutney. And the lamb, the server might note, is from New Mexico.
(by Justin Horwath)