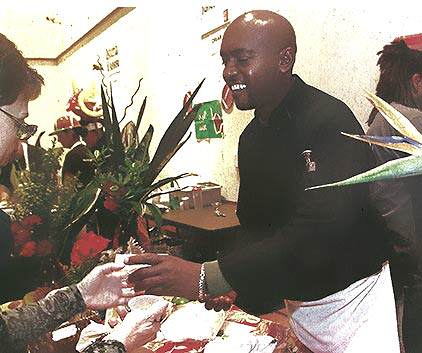 Published February, 2014.

The Souper Bowl fast approaches, that day when all of American gets together to eat nachos and watch two teams they spent most of the year rooting against battle it out for the Lombardi Trophy. For some of us whose beloved team took an inexplicable dive against the Denver Broncos in the AFC championship game, the Super Bowl is just a good day to stuff our faces with potato skins at somebody else's party while glaring at the screen with narrowed eyes.
But the day before Super Bowl XLVIII, another event takes place, an event just as compettitive but far more delicious and that does not involve the Seattle Seahawks: Souper Bowl XX. Pun intended.
More than a food competition, and more than a tasting party, the Souper Bowl, which takes place Saturday at the Santa Fe Community Convention Center is a rowdy gladiatorial battle with soup as the medium and bragging rights as the ultimate prize. For $30 in advance ($35 at the door and $10 for kids), you can com in and sample every soup in the room, and then cast your vote for the best soups in a number of categories, as well as overall best soup.
Every penny goes to a good cause. "One hundred percent of proceeds benefit The Food Depot, the food bank for Northern New Mexico," Food Depot Director Sherry Hooper said. "We have an increasing number of people seeking help, due to cuts in SNAP (Supplemental Nutrition Assistance Program – food stamps). New Mexico is ranked top when it comes to hunger and poverty, so there's such a great need for support.
Unlike many food competitions, which are largely spectator events where culinary professionals make all the judgment calls, Souper Bowl soups are actually judged by the guests, who are urged to take their responsibilities as seriously as the NFL's referees (not the replacement refs; no one wants people flinging hot soup angrily at each other).
Only the organizers know the soups ahead of time. Everyone else finds out what will be offered when they arrive at the event. Restaurants will participate in one of the following categories: Best Cream Soup, Best Savory Soup, Best Seafood Soup and Best Vegetarian Soup. The chefs are assigned their categories randomly, which "adds a little spice to the competition," Hooper said. "It's our third year doing that. It challenges them a little more."
This year, more than 25 restaurants will participate, including Raaga, Agave Lounge, Del Charro, Terra at the Four Seasons Rancho Encantado, the Palace Restaurant & Saloon, Blue Corn Brewery and Dinner for Two, among many others, all of which will be serving up distinctive and different concoctions.
You, the guest, vote for a soup by putting a slip of paper in the soup's ballot box. Help Boy Scouts, chosen perhaps for their childlike integrity, run back and forth with boxes of votes, which are counted and recounted in a backroom. True to the Super Bowl spirit, every time a soup gets seven votes, it receives a "touchdown" and a wee whimsical paper football is pinned up to the scoreboard so everyone can watch the competition unfold in real time.
The soups are hot, the competition is fierce,and the atmosphere is raucous. "We've eliminated bands and music because you can't hear those things in the ballroom, there's so much activity," Hooper said. "It's a true community event – neighbors, friends, businesses, they all run into each other at this event, so it's a good opportunity to catch up with people."
As those little footballs go up on the board, the event's hosts, radio personalities Ira Gordon and Mary Charlotte Domandi, will call out the frontrunners for most of the categories, although the Best Soup vote will stay a secret until the very end.
This year, the Souper Bowl turns 20 – a meaningful milestone, especially considering that the event "began with five restaurants in a tent in the parking lot of Wild Oats market," Hooper said. Roughly 1,400 people attended last year's event, raising about $60,000 for The Food Depot. So while many of us will be spending this weekend eating our feelings, at least at the Souper Bowl we can do it for a good cause.
Image: Ahmed Obo, the owner and executive chef of Jambo Cafe, serves his award-winning soup during last year's Souper Bowl XIX at the Santa Fe Community Convention Center. Jambo has won the coveted Best Soup award four years in a row. Photo courtesy of New Mexican File Photos.